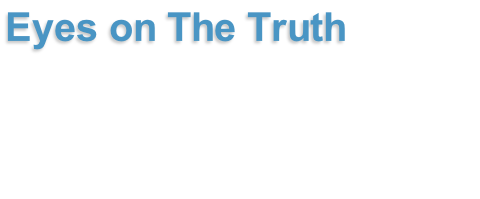 We at "Eyes on the Truth" are excited about bringing forth this website designed to provide information that will open your eyes to information that can support your spiritual growth. We hope you visit often, as we will bring new information each month. Please join our member community and obtain more detailed and focused information in addition to monthly updates to public area on the website.
Our Mission: Eyes on the Truth will strive to be a means of inspiration and hope in a world desperately searching for lasting peace. Eyes on the Truth will be dedicated to serving you with information that will improve your life both spiritually and physically.
Contact Us .. We are eager to serve and teach
Eyes on the Truth would appreciate your comments, questions, membership, and donations. Please contact us at eyesonthetruth@yahoo.com.
If this is your first time visiting us, please complete the contact information. We will add you to our mailing list. Thanks!






E-mail: eyesonthetruth@yahoo.com
Web: www.eyesonthetruth.com