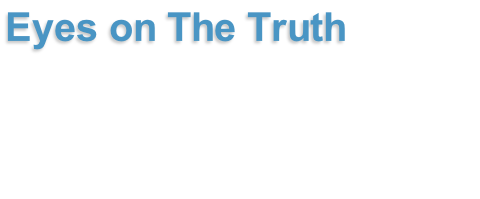 We at "Eyes on the Truth" are excited about bringing forth this website designed to provide information that will open your eyes to information that can support your spiritual growth. We hope you visit often, as we will bring new information each month. Please join our member community and obtain more detailed and focused information in addition to monthly updates to public area on the website.
Our Mission: Eyes on the Truth will strive to be a means of inspiration and hope in a world desperately searching for lasting peace. Eyes on the Truth will be dedicated to serving you with information that will improve your life both spiritually and physically.
Members pay a monthly or annual donation to help support research, writing, and publishing efforts. Subscribed members gain access to additional articles, 8 newsletters/year, obtain discounts on books, and will soon have special chats with Eyes on the Truth. Subscription is currently by mail. Please ask how to subscribe via the Contact Us link or via our Twitter account (see Contact Us link).